Trusted. Responsive. Unique
Rapid Response IT Services in Hartford CT
---
How fast is our response to your IT support need? 

Instantaneous. Triage begins the moment you contact us. 
We are the Most Highly Rated IT MSP in the area.
Ready to talk to the IT help desk experts? C
ontact us today! (860) 251-9706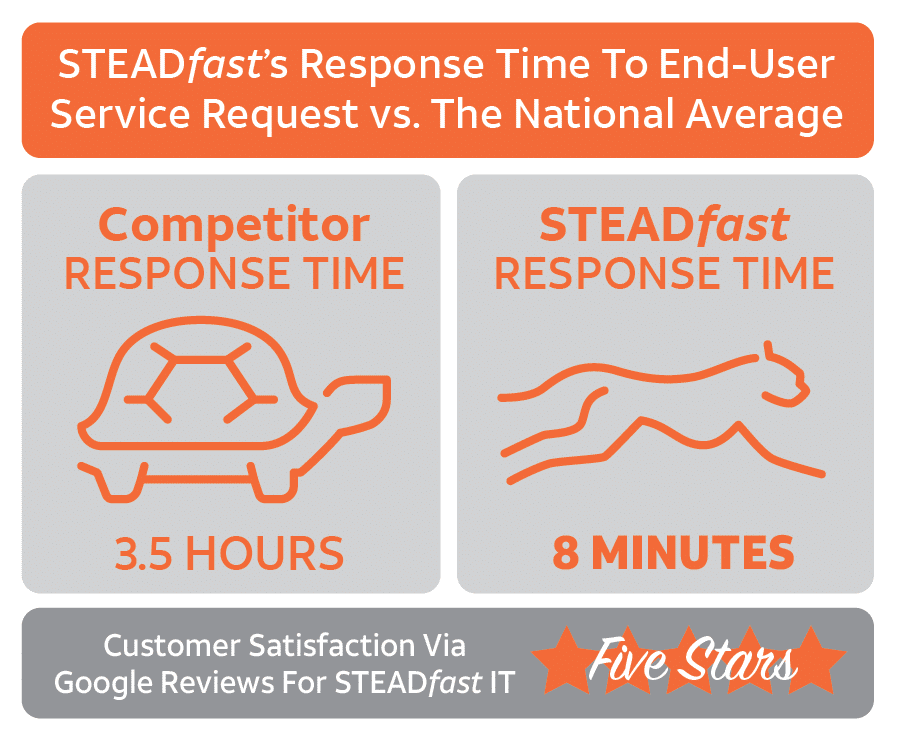 Managed IT Service Provider Serving Hartford, CT
STEADfast IT
100 Pearl Street 14th Floor,
Hartford
,
CT
06103
Phone:

860-251-9706
Managed Service Provider | End User Support | IT Managed Services | IT Outsourcing
---
STEADfast IT delivers all-inclusive, managed IT services for small and medium-sized businesses. Our Managed IT Support provides IT infrastructure and unlimited remote support for a fixed monthly fee based on the number of employees in your organization. STEADfastresolves more than 90% of employee issues the same business day and our customers experience 40 – 60% savings with STEADfast's service as compared with traditional in-house IT departments.
Small & Medium Business Needs: Your Complete IT Team Serving Hartford CT and beyond.
As a business owner ourselves, we know how tough it can be to keep your team up and running.
STEADfast's dedicated expert engineers are here for your support, eliminating employee downtime with an immediate remote fix to Sally's printer that is not working.
Our White Glove, end-user support allows you to focus on running your business while we focus on responsive, remote service with full capability. STEADfast is your complete IT department; from end user support to network server and management.
Managed IT Services – Hartford, CT
Virtual CIO
Systems Assessment
Strategic IT Consultant
Server Support
Network Management
Mobile Device Support
Off-Site Backup
Anti-Virus Protection
Device Monitoring
With Unlimited Remote Support 
HOW IS THIS POSSIBLE?
1) Our CEO, Craig Skevington is an engineer, entrepreneur and problem solver at heart. Via Craig's vast knowledge and experience rooted in making businesses run faster and more profitably, STEADfast has created a proprietary process that's appropriate for businesses seeking Managed IT Services with an emphasis on service. We implement solutions to protect one of your most important assets – your data. And we minimize infrastructure because a room full of servers is a cost center that's no longer a competitive advantage.
STEADfast operates our own data center; we use this infrastructure to provide solutions to small, medium and large size business needs. Our process encrypts all of your data before it ever leaves your computer for backup, guaranteeing that no one has access to your data. Finally, your information is not going off-shore to a third party broker as we are located in beautiful Saratoga Springs, NY. Any business can take advantage of these services on an as-needed basis.
Flexibility and Personalization from beginning to end.
Ala-carte Menu Selection

Website Hosting
Server Hosting
Data Backups
Anti-Virus
24/7 Monitoring
Server Support
Software/Hardware Inventory
Help Desk & Remote Support
2) STEADfastITMSP can also act as your outsourced CIO, guiding you to better business decisions that save you time, money and eliminate the break/fix cycle so many find themselves in. Our long term planning and strategy guarantee your systems to remain up to date and running smoothly. We recently saved one customer close to $400,000.00 in expenditures. That was a good day!
3) When an MSP provider gets paid to fix problems, they can't really be expected to prevent them. With STEADfast's service, we provide and support your IT infrastructure for a flat monthly fee with unlimited remote support. As your Managed IT partner we eliminate surprise costs, onboard new employees easily, and ensure that the CEO has remote access support when away on vacation.
Bottom line; STEADfast remains TRU to every one of our customers; Trusted. Responsive. Unique.
Outsourcing IT Services with STEADfast IT MSP
IT Support for Large Business Needs: Superior End User Solution
STEADfast solves end-user support service needs. 
Our round the clock, trained engineers await your employees call in our SOS Center. We allow CIO's to focus on business while we handle the day-to-day end-user support. As a seamless partner to your internal IT staff, our end goal is to increase productivity, drive revenue and put an end to constant interruptions.
Responsiveness is the name of the game.