STEADfast IT News
---
The Tech Behind a $28 Million Renovation
From heated sidewalks to heated toilet seats, check out all the tech in this $28 million Saratoga Springs hotel.
By Chelsea Diana  – Reporter, Albany Business Review
When guests at the new Adelphi Hotel in Saratoga Springs, New York, enter their rooms for the first time after checking in, they are greeted to a warm room and spectacle.
"The curtains draw apart and the shades go up automatically. The lights go up. It's a nice wow factor when a guest walks into the room," said Helen Watson, general manager of the Adelphi Hotel.
The 32-room Adelphi Hotel reopened last fall after $28 million in renovations to the prime property on Broadway in Saratoga.
The renovations brought the 19th-century hotel into the 21st century, with luxurious guest rooms, two restaurants and the latest in hotel technology. The Adelphi Hotel was recently featured as part of Travel + Leisure's 2018 It List, the magazine's selection of the best new and newly-renovated hotels around the world.
The Adelphi Hospitality Group worked with Steadfast IT, based in Saratoga Springs, on much of the technology behind the hotel. Mike Hatalla, director of technology at Steadfast, was the point person directing the Adelphi Hotel project.
Steadfast IT was started in 2002 with a focus on helping companies reduce costs by sharing services, such as a data center and front office personnel. That business model has shifted to provide IT services to companies remotely as the company has developed software to make that process seamless.
Hatalla said technology touches every inch of the Adelphi Hotel, from the fiber optic internet connections to every room to heated sidewalks to melt snow and ice, and little details, like hidden USB ports and outlets throughout the property.
The hotel works with two fiber optics suppliers, Verizon and FirstLight Fiber, to guarantee service will never be down. Cell phone signal boosters and Wi-Fi routers dot the hallways to ensure guests always have access to their devices.
"We're luxury, we charge a lot of money for our rooms. We don't want guests to be disappointed because the Wi-Fi isn't working well," Watson said. "At my old hotel in LA, people would complain about internet speed. We wanted to make sure that didn't happen here." 
Rooms at the Adelphi run as low as $125 for locals to stay during the week, and can go as high as $4,000, according to the Adelphi's booking site.
The guest room experience goes beyond the fast internet. Each of the guest rooms' bathrooms areoutfitted with heated floors, heated towel racks, heated toilet seats with built-in bidets and heated mirrors, so the glass does not fog. TVs in the rooms are equipped with popular streaming services, such as Netflix and Amazon, as well as apps to order room service.
Next to the door, the guest rooms have pads with buttons, including a privacy light that goes on instead of a do not disturb sign, and a "make up room" button requesting service to the room.
"When they check in, the heat will automatically kick up [in the room]," Hatalla said. "There's a lot of technology around conserving energy."
---
STEADfast IT Announces the Pay It Forward Partner Program
On November 23rd STEADfast IT announced a give-back program for every referral a client, employee or vendor sends their way. Donations will be made in the name of the referral to the charity of their choice.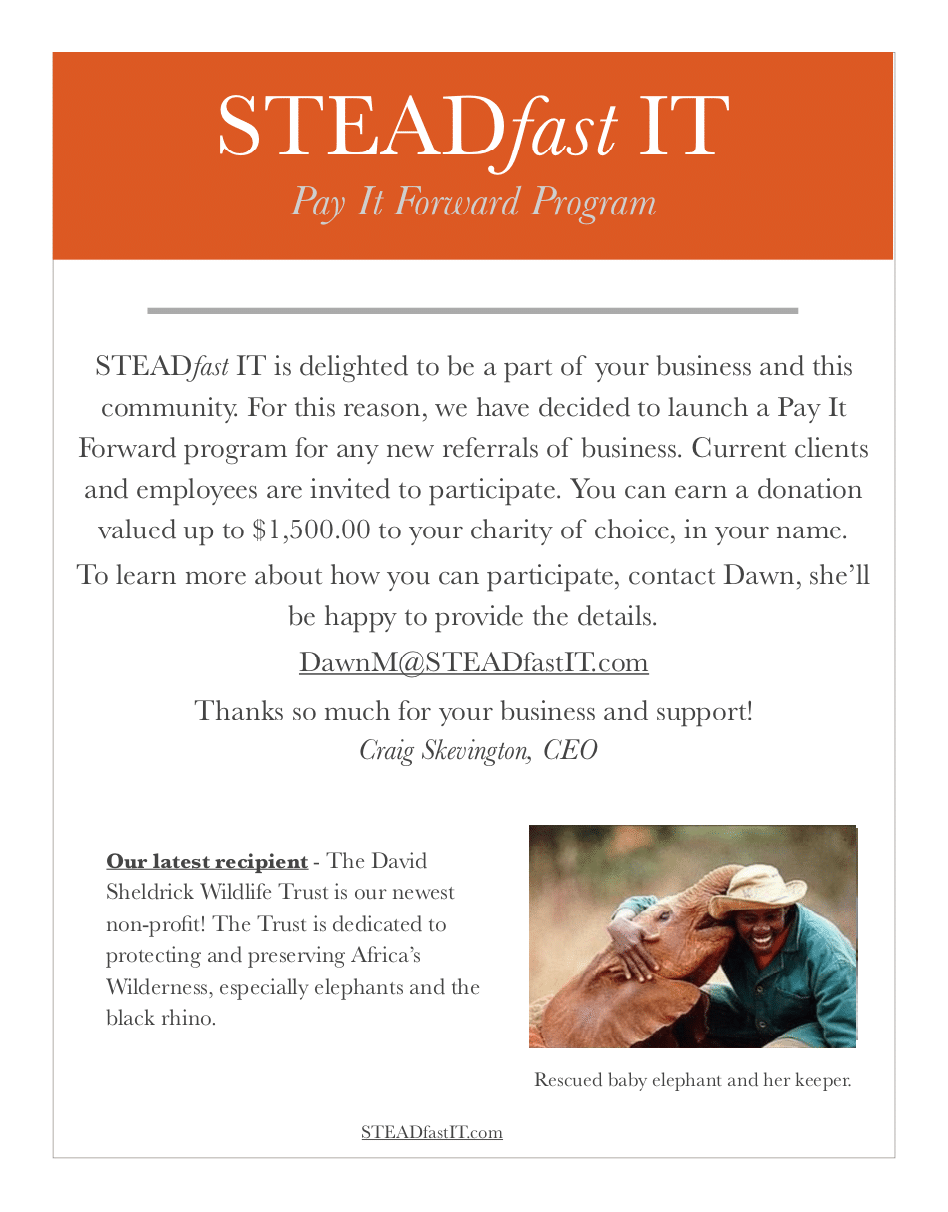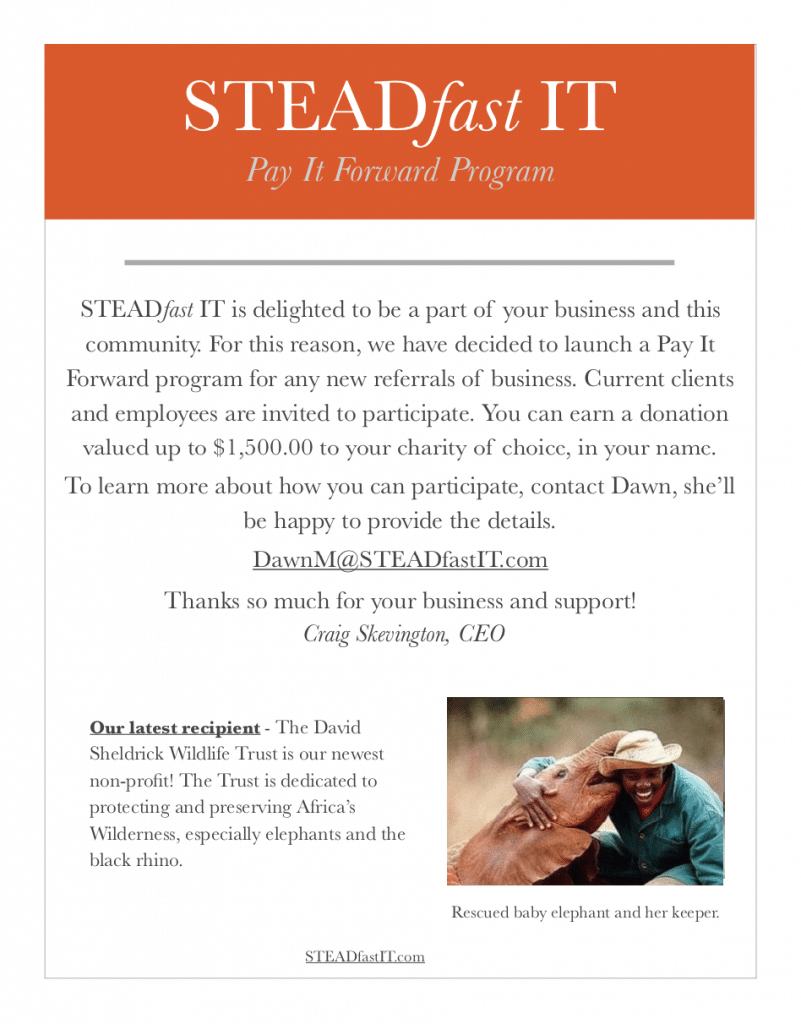 ---
CEG 21st Annual Technology Awards
Craig Skevington, Ph.D., Founder, CEO & President, STEADFast IT receives the Jeffrey A. Lawrence Lifetime Contributor Award from the Center for Economic Growth @ the 21st Annual Technology Awards.
On the evening of June 29th, 2017 Craig Skevington was recognized by a panel of thought and industry IT leaders for his lifetime commitment to innovation and execution of IT challenges facing small and medium-sized businesses today.
---
Saratoga IT company prepares for major growth with new help center
Sep 6, 2017, 7:52am EDT Updated Sep 6, 2017, 10:52am EDT
Chelsea Diana Reporter, Albany Business Review
Saratoga IT company looks to national growth with rebrand
Steadfast IT, a technology company founded by serial entrepreneur Craig Skevington in Saratoga Springs, New York, has created a new customer service center that responds to customers' IT problems faster and more efficiently.
The service, called SOS Center, is critical to Skevington's plans to expand the business outside of the Albany area. Steadfast IT provides IT infrastructure and support for small to medium-sized companies.
Courtesy of Steadfast –
"You really need to be able to differentiate yourself. There are a lot of IT providers out there," Skevington said. "Most of the time, the IT providers talk about the breadth of services and how qualified their employees are. There aren't people out there saying how responsive they are. I wanted something tangible."
Skevington said his team has been working on a new ticketing system for several years, borrowing ideas from manufacturing workflows and hospital emergency room procedures. He said the center is responding to calls 85 times faster than its industry peers.
The operation center employs four engineers handling customers' IT problems. Within two years, Skevington said the center is expected to have around 26 people.
"As we go into different cities, our remote support will be done out of the Capital District," Skevington said. "This center will see a lot of growth."
Steadfast IT signed its first client in Hartford, Connecticut, recently. Skevington said he expects to have a bigger presence in Hartford by the end of the year.
The city will be the foothold to expand int Connecticut and other mid-sized cities across the country.
Steadfast IT is planning to target cities such as Cleveland, Ohio, and Boulder, Colorado, for its remote IT services.
Skevington started Steadfast IT in 2002 with a focus on helping companies reduce costs by sharing services, such as a data center and front office personnel. That business model has shifted to provide IT services to companies remotely as Skevington and his team has developed software to make that process seamless.
Today, Steadfast IT has 11 employees based out of an office on South Broadway in Saratoga Springs. Skevington expects to hire more people as the business expands outside the Albany area. There are currently two job openings for IT engineers.
STEADfast's clients include Fingerpaint, Longfellow's Hotel and Restaurant and Schultz Construction, among others.
The business grew 55 percent last year, and revenue was around $1 million. More growth is expected for this year.
Skevington said this is his third business that has the potential for major growth. He has started several local companies, including Flow Management Technologies and Factory Automation and Computer Technology Inc. His company FACT, which he founded in 1986, became a publicly traded company in 2000 as SynQuest.
Chelsea Diana covers technology, money and restaurants.
---
STEADfast IT Reveals Visuals of SOS Center
STEADfast IT reveals the visuals of their new SOS Center; engineers are on standby to receive incoming service requests and resolve issues in real time. This speed of service is key to STEADfast's ability to out-perform the competition. To find out more click here.
STEADfast's SOS Center is located in the heart of beautiful Saratoga Springs, NY. This is our idea of outsourcing.
---
Saratoga Technology Accelerator Announces Name Change to STEADfast-IT to Reflect Core MSP Commitment
Saratoga Springs, NY June 6th, 2017 – Saratoga Technology Accelerator – a leader in managed IT services announced today that it is changing its corporate name to STEADfastIT
The name change reflects the company's broader footprint and dedication to expertise in the area of Managed IT Support.
"The new name of STEADfastIT allows us to emphasize our core brand promise; to revolutionize how IT experiences are created. Our focus on the human connection and our proprietary process combine to create a new standard for IT service delivery," said Craig Skevington, President and CEO of STEADfastIT.   "As a company with its roots in customer service and technology we are dedicated to delivering breakthrough levels of service and data to save our customers time and money."
STEADfastIT includes the company's services which have provided end-user support and on-site assessments with industry leaders in the Capitol region for more than 14 years. With STEADfast's proprietary process of dedicated teams and individualized dashboards the goal is to inform our customers about employee performance, equipment stability, and financial projections for future modeling.
"We know that our clients need to be better informed about performance, available data, licensing, backups and data recovery."
The new name is effective immediately and will be implemented across the company's products and services throughout the remaining calendar year.
About STEADfast – IT:  STEADfast (www.steadfastit.com) is a Managed IT Services provider located in beautiful Saratoga Springs, NY, serving customers with white glove managed IT support including but not limited to; Virtual CIO, end-user support, monitoring, backups and firewalls. To learn more please visit; https://managedserviceprovider.com/solutions/
---
CG Case Study – 
Project Overview
CG Power faced several obstacles at the same moment in time which was creating a critical situation. Their internal IT staffing issues were tied to their lack of security, out-dated infrastructure and rapidly escalating costs with lower service levels.  This was creating an environment of decreased productivity on the part of their employees and high levels of stress among executives.
Challenges
STEADfast needed to perform an overall analysis for the CEO and CFO on the current state of affairs. STEADfast uncovered that the amounts being charged to the client were far outside the industry standards for services delivered.
Solutions
Upon STEADfast's recommendation, CG let the previous vendor go, hit the reset button on their end-user support, overall infrastructure services and security. They then promptly hired STEADfast.
Results
STEADfast implemented an overall strategic plan to address outdated licenses, gear, backups and non-existent end-user support. STEADfast launched desktop support rooted in real time response to eliminate the cycle of employee downtime. SF took over all infrastructure management, bringing all tools and gear up to date.  SF provided far more services with tangible results at a reduced cost compared to the previous vendor.  STEADfast's response to a previous RFP saved CG Power close to $400,000.00 in un-needed costs recommended by the former provider.
---
Case Study – CEG
Project Overview
CEG had become increasingly frustrated by the lack of response on the part of their managed service provider. They also felt that they were being charged too much for the services that were being provided when comparing numbers with other organizations that were their size.
Challenges
STEADfast needed to perform an overall analysis for the Executive Director on the current state of affairs. Upon interviewing internal staff it was discovered that a third party vendor was charging CEG monthly for server rental. Three years into their relationship, CEG had paid more than 15 x's the value of the server if they had just bought one themselves. Also, an additional vendor was billing them for end-user services that did not exist. Again, STEADfast uncovered that the amounts being charged were far outside the industry standards.
Solutions
CEG decided to fire the previous vendor and hire STEADfast. SF quickly put them on a fixed-rate plan where STEADfast handles all end-user support and infrastructure needs.
Results
STEADfast streamlined CEG's billing system by eliminating unwanted/un- needed vendors from their monthly billing cycle. CEG was now able to budget accordingly on a fixed rate plan, enjoy a higher level of service for all end-users and realized significant savings in the process.